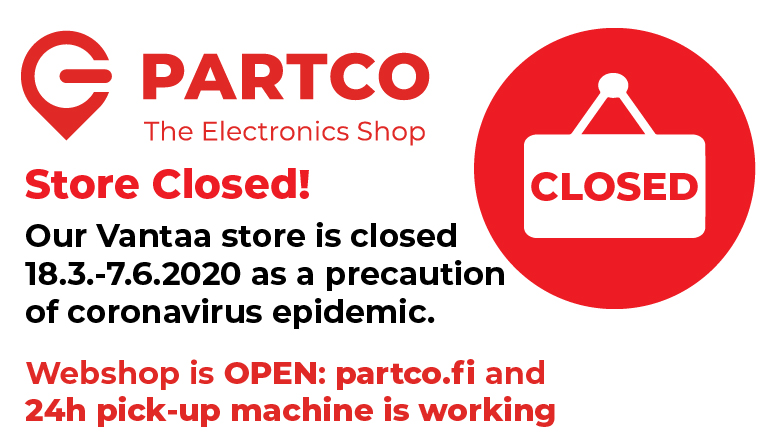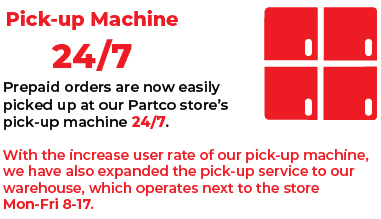 Coronavirus
The coronavirus (COVID-19) situation has escalated over the past days and weeks as the virus has spread quickly across the globe. The impact varies from country to country and even from local area to local area within the countries. This is a new situation that creates a lot of uncertainty, and it will impact all companies across the globe.

In Partco and Elgood, we have installed significant preventive actions to limit the risk of coronavirus spreading. The situation changes day by day, and the flow of information is extremely necessary in this situation. The safety of our employees has the highest priority, and we are following the situation closely.

Partco has not been affected by the virus outbreak, and our order deliveries continue as usual.

Partco.fi webshop is up and running and now is a good time to take advantage of our stock based in Vantaa.
All Partco webshop orders over 50 € (including VAT) will get a free delivery.
Partco store is closed up until 7.6.2020 as a precaution of a coronavirus epidemic. All our other services are running normally.
Partco technical service operating hours has been expanded to 8.00-17.00 (Mon-Fri). The phone number in Finland is 0600 133 20 (0,51 €/min).
The customer service e-mail address is myynti@elgood.fi.
24h pick-up machine serves you normally in Vantaa Koivuhaka. We regularly disinfect the pick-up machine.

Take care of yourself and of others!